Nutrition Facts Database Tools and Spreadsheet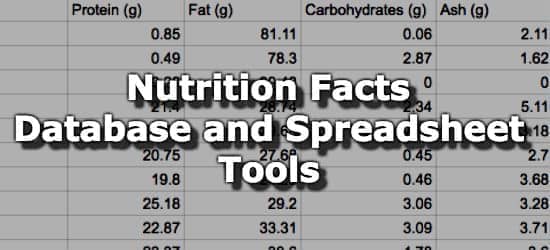 The nutrition facts on this website are driven by the USDA Agricultural Research Service (ARS) Nutrition Facts Database. You can find the raw files here, along with the documentation.
Tools to Help You Use the Data
A core mission of MyFoodData.com is to provide easy to use and understand nutrition data tools. Here is what we have created so far:
What tools do you wish you had? Please sign up and give us your opinions to help shape these tools!
View the Nutrition Facts Google Spreadsheet Here
When using Google Docs you need to go to "File" then "Make a Copy" in order to edit the file. This will also be easier if you have a google account (gmail account).
Click to Download the Excel file (.xlsx) File size: 1.6 MB
The default serving size for the spreadsheet is 100 grams. There are 28.4g in an ounce (oz). So to convert to ounces, multiply each value by 0.284.
This is MyFoodData.com's release of the ARS Nutrition Facts Database in a flat file Google Docs Sheet. With this spreadsheet you can filter down to the foods you want, and make your own calculations or tables.
The latest version of this spreadsheet can be found on Google Docs here, or you can download the excel file here (1.6 MB). It is a simplified version. We are working on releasing a comprehensive version with all 8000+ foods and over 100 nutrients. Give us your feedback to make the next version better.
Omega 3 and Omega 6 Data with Serving Sizes
Omega 3 and Omega 6 data can now be found here as a google sheet. Here as an excel file, and here as a CSV.
Please contact us with any requests or suggestions.
Want to support us or sign up to the site? Click here to go premium for $10 a year or just make a free ad-supported account.
Or go back to the home page.